EXMOUTH BED & BREAKFAST
 01395 742856 - 07552 313653
CHARMING BED & BREAKFAST ACCOMMODATION IN EXMOUTH, DEVON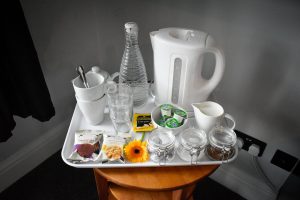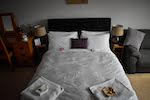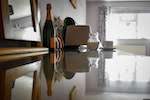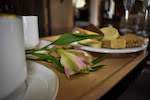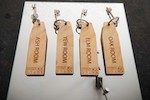 Step inside TLC Bed & Breakfast.
Where a warm welcome awaits!
Hi, we are Theresa, Lucy and Craig – yes, we are TLC!  and together with our friendly pet poodle Rosie, we look forward to welcoming you into our home.
TLC is our charming, coastal Bed and Breakfast located in the beautiful and picturesque area of Exmouth in East Devon. Situated in Lyndhurst Road, an attractive, much sought after, back water within close proximity of Exmouth town centre, the train station and nearby cycle path to Exeter.
Our Edwardian property was built in 1910 and has been lovingly renovated to the highest quality and specification to creating a smart and luxurious accommodation for your leisure and business guests. A blend of period charm and quirkiness, with an abundance of original features.
 We have created an environment of intimacy and comfort, without being ostentatious. 
We understand it's the smallest detail where our personal pride and efforts  has created our outstanding bed and breakfast accommodation. We have worked hard to get the combination just perfect! We love nothing more than welcoming first time and returning guests to our home from home. From the minute you walk through the door, to the moment you leave, we're here to look after you, without stepping on your toes.
Our philosophy is to make every guest feel relaxed, refreshed, and at home.
To go above and beyond your expectations.
Four Glorious Bedrooms
Each of our four bedrooms has been furnished and decorated with our guests' comfort in mind. The rooms are light, airy and private. Each with its own individual style and furnishing. All have high quality furnishings and immaculate ensuite or private bathrooms.
At TLC we've added home-from-home comforts that will make your stay relaxed and enjoyable including: quality customised linen, soft white towels, flat screen TVs, toiletries, beverage making facilities with fresh milk, hair dryer and a safe.
If you have any special requirements please let us know in advance and we will always try to accommodate you.
Make time for our breakfast!
You'll definitely want to make time for our breakfast. The menu is inspired by local ingredients! We cook each breakfast to order so you can relax and enjoy the garden, catch up on the news,  local information or just enjoying the company of friends and family.
See our Breakfast Menu.
Group Bookings
We are happy and well equipped to accommodate group bookings for weddings, celebrations, and business meetings. Please contact us in advance to discuss your requirements.
Children
The concept behind ​TLC is of a relaxed and quiet adult-only establishment. We respect that our guests are looking for a relaxed ambience. For this reason we consider the accommodation unsuited to children under the age of 12 years old. However, please discuss requirements with us and we will try to help.
Can I bring my pet?
We have our family dog Rosie on-site. To avoid a doggie showdown, we do not allow pets to stay. Rosie is a well behaved toy poodle, who loves cuddles and attention! She can normally be found stretched out in the resident lounge, however, if you aren't keen on dogs, we will keep her out of view during your stay.
Check-in Times?
Between 16:00 – 20:00pm (Other times available by prior arrangement).
Check Out Times?
By 10:00.
Do you have Wi-Fi?
Yes.